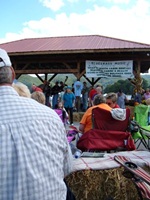 Townsend is know as the Peaceful Side of the Smokies
Townsend, Tennessee is known as "the peaceful side of the smokies". Townsend is located 20 minutes from Pigeon Forge on US 321. It is near the northwest corner of the Great Smoky Mountains National Park. The Middle Prong of the Little Pigeon River is close by where fishing is popular along a quiet part of the river. In the summer swimming and tubing is a popular pastime in Townsend. Horseback riding, camping and biking are other popular pastimes.
The Townsend Visitors Center usually is host to studios and galleries of local crafts such as basket weaving, woodwork, pottery, glassware and painting just to name a few. There is also a bookstore with cookbooks, hiking guides, local plant and animal books, and other local information as well as clothing.
Townsend is host to numerous special events. Each spring Townsend has its Spring Festival and Old Timers Day with its BBQ contest. Each fall the town has its Fall Heritage Festival and Old Timers Day. Bluegrass bands perform on stage, there is clogging, there are craft booths set up with all types of different handmade crafts, food, clothing, pottery and art. Food vendors are set up near the stage; old farm equipment is on display; story telling tents; and how to make molasses the old fashion way is demonstrated. Heritage Days showcase the local mountain culture and is allot of fun to attend. Musicians are welcome to join in the bluegrass jam sessions the happen on the porch of the visitors center so make sure to bring your guitar, fiddle or mandolin and join in on the fun.
There are lots of hiking trails in the northwest part of the Great Smoky Mountains National Park. Nearby Tremont has 2 scenic hiking trails and access to Middle Prong of the Little Pigeon River. Also close by are the historic site the Little Greenbrier School and the Walker Sisters Cabin.
From Townsend taking the Little River Road is a scenic and beautiful ride along the river and you end up in Gatlinburg. One can also get to Cades Cove from Townsend. Cades Cove is a 11 mile loop road with beautiful mountain views, open fields of flowers and wildlife viewing are common occurrences. It is nothing unusual to see wild turkeys, deer, raccoon, and even bears while riding along the 11 mile loop road.
Golf  is another popular activity. Laurel Valley Golf Course is an 18 hole gold course with beautiful views of the surrounding mountains. Located on Country Club Drive in Townsend.