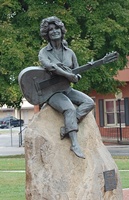 Sevierville-Dolly Parton's Hometown
Sevierville TN,  the county seat for Sevier County and it was founded in 1795. It is located in the foothills of the Great Smoky Mountains that is about 10 miles away. The town began as a rural community settled by European hunters and traders that used the mountain region due to the abundance of wild game. In the 1700's the Cherokee were the main inhabitant of the area using the closeness of the Little Pigeon River for water supply and the mountains and valleys for hunting for their food source and other needs.
As European settlers started to arrive in the l800's and increase in number the community grew adding farms, a trading post, a tavern, a courthouse and shops. Large plantations were common in the area along the French Broad River. The French Broad River was used by flatboat for trade as the area was connected by waterway to New Orleans which made trade expand and grow.
During the Civil War, due to Sevierville's location south of Knoxville, the town was a source of harassment and looting by the Union and the Confederate armies. Battles took place because both armies wanted control of the waterways the French Broad River offered.
After the Civil War Sevierville grew at a rapid pace. By the 1880 with the Sevierville Lumbar Company located in the area the population grew. The root of tourism started with travelers coming to the area for the health benefits of the nearby mountain springs that were popular at the time. Seaton Springs and Henderson Springs located nearby were popular mountain springs people came to in hopes to restore their quality of health.
The Great Smoky Mountains National Park opened in 1934 and a huge number of tourist started traveling thru Sevierville, Tennessee. Sevierville located between Knoxville and the Great Smoky Mountain has exploded due to the tourism industry. The number of hotels, motels, shopping centers, restaurants and related businesses have reached an all time high due to the number of tourist and the popularity of nearby attractions in Sevierville, Pigeon Forge, Gatling burg, Cherokee and the Great Smoky Mountain National Park. Sevierville is the hometown of Dolly Parton. She is the hometown pride country music star, singer, legend, songwriter, big screen movie actress and business woman. With her part in the Dollywood theme park and the Dixie Stampede, tourism to the area is better than ever. She loves her hometown and has never forgotten her roots to the mountain culture and continues to promote and help the continued success to her hometown community.