Hiking the Great Smoky Mountains
Hiking the Great Smoky Mountains is fun for the whole family. The mountains were formed millions of years ago and are one of the most beautiful sites west of the Mississippe. They get there name from the hazy blue appearance that is a result of the gases released from the trees. There are hundres of trail for hiking all over the GSNP Grab your hiking shoes and…
Get out and hike!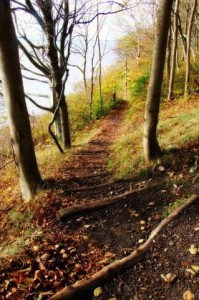 Popular Hiking Trails in the Great Smoky Mountains
Sugarlands Valley Trail-an easy 1/2 mile paved and flat trail. Accessible by wheelchair and strollers. Located at Sugarlands Visitors Center near Gatlinburg.
Gatlinburg Trail– an easy 4 mile riverside trail at Sugarlands Visitor Center near Gatlinburg. Dogs and bicycles  allowed on the trail.
Oconaluftee River Trail– an easy 3 mile trail that follows the Oconaluftee River between oconaluftee Vistitor Center and Cherokee, North Carolina. Another trail where dogs and bicycles are allowed.
Abrams Falls– an easy 5 mile trail in Cades Cove with Abrams waterfalls.
Laurel Falls– an easy 2.5 mile easy paved trail located on Little River Road between Townsend and Gatlinburg. A very popular trail.
Rich Mountain– a moderate 4.5 mile trail on Rich Mountain Road with beautiful views of Cades Cove.
Gregory Bald– a moderate to strenuous trail 9 miles long with incredible views of Cades Cove.
Grotto Falls– a moderate e mile trail with waterfalls.
Rainbow Falls– a strenuous 5.4 mile trail with waterfalls.
Ramsey Cascades– a strenuous 8 mile trail with water falls
Andrews Bald– a moderate 3.6 mile trail, very rocky, has great views located on Clingmans Dome Road
Chimney Tops Trail– a strenuous 4 mile trail
Clingmans Dome– a moderate 1 mile paved trail that leads to a towe with fantastic views of the Great Smoky Mountains and a view a several states. Though paved it is steep.
Look Rock Tower– a moderate 1 mile trail.
Alum Cave Bluffs-a 2.3 mile hike to Alum Cave Bluffs with points along the way for Arch Rock and Inspiration Point.
Alum Cave Trail-after hiking to Alum Cave Bluffs the trail continues to Mt. LeConte for another 2.3 miles. The round trip to Mt. LeConte is 4.6 miles. After leaving Alum Cave Bluffs the trail get strenuous and steep.
Hiking Tips:
· Always hike with another person
· Always bring a small flashlight
· Always bring water
· Let someone know your route and return time
· Wear appropriate shoes
· Carry a small first aid kit
· Be informed on the weather and be prepared for quickly changing conditions. Check current weather conditions
While Hiking the Great Smoky Mountains Beware!
● Bears- observe from a distance. Do not leave food or offer food to the bear. If you suddenly come upon a bear remain calm, quiet and slowly back away. Do not turn your back to the bears.
● Snakes-there are 2 types of poisonous snakes in the area:the northern copperhead and the timber rattlesnake. Be cautious where you put your hands a feet. Be aware of the surroundings. There are few snake bites that occur in the Great Smoky Mountains.
● Yellow jacket wasps-build there nest in the ground and are aggressive when disturbed. A sting from a yellow jacket wasp causes swelling at the site of the sting and may possible result in an allergic reaction causing swelling of the face and lips and difficulty breathing.
● Lightning and Thunderstorms-if hiking and storm occurs seek shelter away from solitary trees, tall trees, rock outcroppings and overhangs. Avoid ridge tops. Lie in a shallow depression away from metal, tree toots and streams.
● Poison Ivy- Contact with this plant causes an itchy rash and local swelling. Know what it looks like and avoid coming in contact.
● When parking the car prior to a hike lock your car and keep any valuables out of site. Unfortunately thieves target cars parked at trail head parking areas to break in and steal valuables.
● Do not drink water from the streams or rivers. The water may look clean and be cold but drinking the water may cause diarrhea.
● Dress in layers to be removed and added as the weather changes.
● Always have rain gear.
● If you get lost-stay on the trail, stay together and remain calm. Let someone know your plans on which trail you plan to take. Searchers will look on the trail first so stay on or near the trail and stay together.
HIKING BOOTS VS. HIKING SHOES Low-cut trail shoes: Lightweight,breathable, easy to break in. May need replacing faster.
Mid-cut trail shoes:
Heavy weight, more stable for added stability. Provides more ankle support for rocky and rugged terrain.
High-cut boots:
Better for rugged terrain and long hikes, provide lots of stability to to the foot and ankle when carrying heavy backpacks. Takes time to break in.